What's New on HartfordInfo.org
April 2010
What's New on HartfordInfo.org is a periodic update announcing recent additions to HartfordInfo.org. Please feel free to forward this message to others. To be added to the distribution list send an email message through our feedback page.
HartfordInfo.org, a program of the Hartford Public Library, is a gateway to information and data on issues important to those who live and work in Hartford and the region.
Here's how your organization can reach over 4,000 people with your message: Sponsor the next issue of What's New on HartfordInfo.org! Call Richard Frieder at 860-695-6365 for full details.
Win an iPod or $100 Gift Card! Click here to take a quick survey.
Need Research or Mapping Services?
Let Hartford Public Library's experienced information professionals assist you with your research, mapping and presentation needs. We can find the best and most current information sources quickly, extract and arrange the data that is most useful for your purpose, and deliver the information to you in presentation formats. For more information, click here.
Come join us for an evening to benefit Hartford Public Library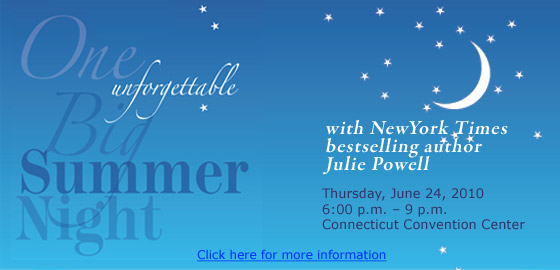 New Community Programs on HartfordInfo.org:
We have reorganized our Community Programs page! You can now search for videos using the title, date or keywords, search by topic, or by year. Check it out at http://www.hartfordinfo.org/video/default.asp
Videos of these programs have recently been added:
Updated Hartford at a Glance spreadsheet — The Hartford at a Glance spreadsheet has been updated with the most current data. The spreadsheet collects information on Demography, Housing, Economic, Education, Children, Health and Crime in one location. Hartford is shown in comparison to Hartford County and the state. Go to www.hartfordinfo.org and click on Hartford at a Glance in the center panel under Hartford Data Sets.
New Reports on HartfordInfo.org:
New Articles on HartfordInfo.org:
Through agreements with the Hartford Courant, the Hartford Business Journal, the Hartford News, the Hartford Advocate, and the Northend Agent's, and with the Cityline, Real Hartford, Urban Compass, and 40-Year Plan blogs, HartfordInfo.org continues to offer selected articles as permanent additions to the web site. Some recent additions include:
Good News in Hartford
Education
Arts and Culture
Transportation
Busway Friends And Foes Take Stances On $200 Million In Federal Funds — If the Federal Transit Administration pledges over $200 million this spring for the proposed New Britain to Hartford busway, the project's supporters say it can be operating by 2013. Click here for the article.
Terminal B On Its Last Days At Bradley International Airport — The Murphy Terminal at Bradley International Airport, opened in 1952 and also known as Terminal B, is a drab ghost town — agentless ticket counters, frozen escalators, vacant food service spaces. Click here for the article.
Alternatives to the Highway Through Hartford — A public workshop took place recently at the Hartford Public Library focusing on what to do about the I-84 viaduct through Hartford. Click here for the article.
Downtown Development
Neighborhoods
City and State Budgets
Economic Development
Hartford History
History Out of Prints — In roughly a 50-year span from 1830 to 1880, the Kelloggs churned out lithographs for all occasions. Now, 180 years after the firm began, two new major projects display their work. Click here for the article.
Historian Hosley To Lead Bicyclists Along Trail Of Hartford's Significant Sites — William Hosley, a cultural resources consultant with a decades-long professional interest in the city of Hartford's history, will lead a special bicycle tour in June. Click here for the article.
Youth Club A Hartford First — A grand, if little-known achievement in Hartford history, was the founding of the Boys & Girls Clubs. Click here for the article.
Health
In Hartford, More Than 1,000 Receive Medical Help At Free Clinic — The insurance capital of America played host recently to the uninsured, more than 1,000 of whom filled the cavernous Connecticut Convention Center for the chance to see a doctor. Click here for the article.
Selling Kids On Healthy Snacks — A Hartford woman wants to bring healthy snacks to the masses, starting with five Yo-Naturals vending machines in Hartford, two of them at Hartford Public High School. Click here for the article.
Hartford Hospital's Life Star Off Critical List — For Now — A year after its own life-and-death struggle, the helicopter program at the Hartford Hospital is busy saving lives and making friends. Click here for the article.
Notable Transitions
Churches Seize On New Ideas To Survive — The Church of the Good Shepherd on Wyllys Street has been forced to come up with creative ways to continue its spiritual mission. Click here for the article.
Carlos Toro A Valiant Fighter for the Sick — Carlos Toro was a scrappy fighter whose advocacy on behalf of people with AIDS helped hundreds of people around Hartford deal with disease and discrimination. Click here for the article.
Benjamin Laury Sr. Dies — Benjamin Laury was among the first six black men to become full-time Hartford firefighters in 1948. He recently died at age 87, the last surviving member of the five men in that group who spent at least 25 years with the department. Click here for the article.
Questions? Suggestions?
Click here to send Feedback/Comments
Visit us at www.hartfordinfo.org