On Average, Small Cities Across The Country Saw Increases In Murder, Assaults For 2005
June 13, 2006
By TINA A. BROWN, Courant Staff Writer
While crime overall was down last year in Hartford, an increase in murders and assaults in the state's capital was the same trend seen in smaller cities and rural communities across the country, according to FBI statistics.
On average, cities with 50,000 to 500,000 people had the biggest increases in murder. Conversely, the violent crime rates in some major cities, such as Los Angeles, Boston and Chicago, declined last year, according to the FBI Uniform Crime Report for 2005.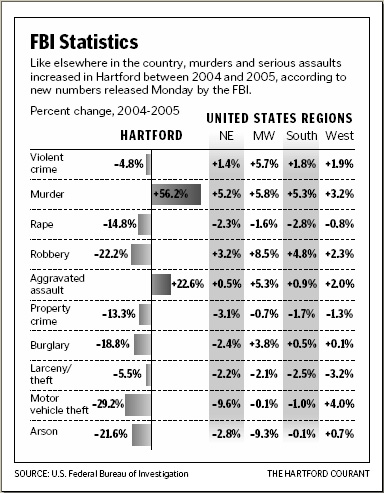 In Hartford, murders were up by 56.2 percent, for a total of 25 homicides, while aggravated assaults were up 22.6 percent. However, crimes such as forcible rape, robberies, property crime, burglary, larceny and motor vehicle thefts were down.
If not for murders and assaults, Hartford would have had a 4.8 percent reduction in violent crime.
Overall, murders were up by 5.2 percent in the Northeast, 5.8 percent in the Midwest, 5.3 percent in South and 3.2 percent in the West. Aggravated assaults increased by 0.5 percent in the Northeast, 5.3 percent in the Midwest, 0.9 percent in the South and 2 percent in the West, according to the FBI's annual report.
Across the country, forcible rapes declined as did property crimes and larcenies, the report said.
Hartford police administrators were not available for comment Monday on the FBI report, compiled from data provided by law enforcement agencies across the country.
Police officials and university researchers interviewed Monday said it was important to reduce the number of murders and assaults. Strategies vary from city to city.
On Friday, Hartford invited state troopers to help blanket the city's high-crime areas with police in an effort to reduce the level of gun violence in recent weeks. The tactic is meant to stop vehicles that might be trafficking in guns and drugs, city police said last week.
But in places such as Winston-Salem and High Point, N.C., Kansas City and Providence, police and community officials are employing long-term strategies to help drug dealers change their lives.
Police in some small cities are working with community groups to employ crime prevention models established more than a decade ago in Boston and Chicago, said David Kennedy, the director of The Center for Crime Prevention and Control at John Jay University in New York.
"This isn't about size [of a city]. It's about commitment," Kennedy said. "You do it neighborhood by neighborhood."
In High Point, N.C., a city of 93,000, for example, an increase in drugs, gangs and violence within the past several years alarmed officials. Rather than look at the problem as simply a law enforcement issue, Kennedy said, the community and the police teamed together and shut down "every active public drug market in the city and they saw a huge reduction in violence."
The community went one step further two years ago and involved the city's social service agencies. The agencies helped find jobs for dealers who wanted to quit selling drugs.
"We knew we were not going to win the war on drugs," said Assistant Chief Derek Stafford of the High Point Police Department. "We've tried to address the violence and the behavior of the drug dealers. We realized that by drug dealers' standing on the corner, open air drug markets invite violence."
In one High Point neighborhood, police identified 30 high-level, mid-level and street dealers, whom officers videotaped doing business. Police prepared arrest warrants, and the big-time and mid-level dealers were prosecuted by either federal or state authorities.
But about 21 street-level dealers were invited to a community meeting instead of being arrested. They were told "your drug dealing is over," Stafford said. "If not, we'll activate this [arrest] warrant. The community will help you get jobs, driver's licenses and diapers for the baby."
Pictures of the dealers working the streets were posted at the meeting. "We made it absolutely clear, we have you," Stafford said. "We aren't serving [you] with this warrant. We'll give you an opportunity to help yourself."
Most of those dealers took advantage of the offer, Stafford said.
Extensive pre-planning and community involvement is key, Stafford said. Over the past two years, violent crime has dropped 20 percent citywide and 40 percent in High Point's most dangerous neighborhoods.
Why has it worked?
"Everybody wants the community to be safe," Kennedy said. "Everyone wants repeat offenders to turn their lives around. Everybody wants the killing to stop and the police to stop kicking in doors because they are not making any progress."
Added Stafford, "It's easy for police to stop everything that moves and make a dent for a week. But you're stopping the good people, too. This isn't a police neighborhood crackdown. One of the positive things about the drug initiative is it is tough on crime. The community also likes it because it gets the drug dealers off the corner."
Reprinted with permission of the Hartford Courant. To view other stories on this topic, search the Hartford Courant Archives at http://www.courant.com/archives.