July 2, 2006
By ERIC R. DANTON, Courant Staff Writer
Maybe Hartford should have built a casino.
Four years into the capital city's official campaign for renewal, much of its music scene is sliding southeast, down Route 2 to Mohegan Sun and Foxwoods.
The two biggest casinos in the world are soaking up entertainment dollars with a rich array of live music, restaurants, clubs and shopping. That leaves Hartford - and other cities in the region - scurrying to attract visitors while competing against a pair of well-funded marketing juggernauts.
The opening of Mohegan Sun Arena in November 2001 and the seemingly perpetual plans for expansion at both casinos have altered the entertainment landscape in Connecticut, Hartford boosters, casino officials and area entertainment mavens all agree.
Rock concerts that once might have played the Hartford Civic Center now end up at Mohegan Sun Arena, and comedians who might have headlined the Bushnell Center for the Performing Arts perform instead in the Fox Theatre at Foxwoods or the Cabaret Theatre at Mohegan Sun.
What that means for the long-term prospects of Hartford's revival efforts depends on whom you ask. Advocates for the city, including Mayor Eddie A. Perez, hold fast to the idea that any money spent in Connecticut eventually benefits Hartford. Outside observers say it will take more than that.
Although Hartford has more pressing concerns than its cultural life - crime, poverty, jobs and education among them - New England's Rising Star can't rely solely on tourism and conventioneers visiting Adriaen's Landing to boost its fortunes. The city needs to attract locals, too.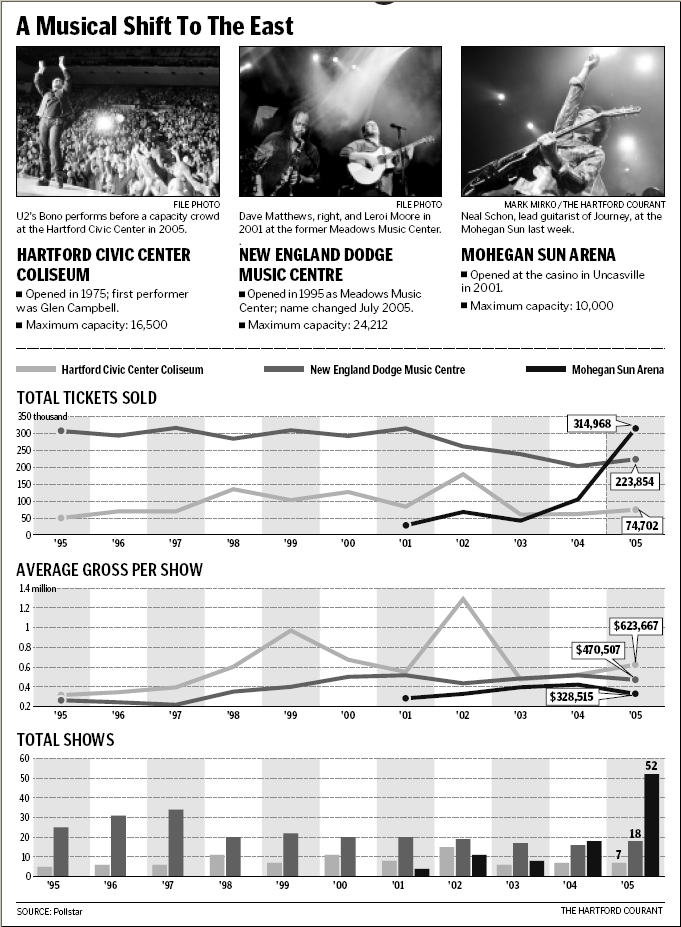 "A vibrant entertainment scene, especially one that included not only `high culture' but also music clubs to attract both musicians as well as an audience, would be a big help for any city's future," said Robert Fisher, professor of social work at the University of Connecticut and director of the school's urban and community studies program.
"It's not that every city needs to become an Austin, Texas; it's just that in the case of Connecticut, cities such as Hartford should have a more vibrant music and club scene," Fisher said.
Hartford has high culture. There's theater in the city, along with art galleries, touring Broadway shows, classical music and opera. But aside from the Webster Theater, a rock club in the Barry Square neighborhood, the city's pop-music scene is not what it once was. The Hartford Civic Center, at its height, hosted 25 concerts with more than 350,000 tickets sold in one year. That was 1983, though, and the numbers have declined steadily. Only four times since 1995 has the Civic Center sold more than 100,000 concert tickets in a year, according to data compiled by Pollstar, a concert-industry trade publication.
By contrast, the Mohegan Sun Arena drew nearly 315,000 fans to 52 concerts in 2005, almost triple the number of people who attended shows there in 2004. Many of the acts that performed at the Civic Center in 1983 have played, within the past two years, at Mohegan Sun, including Journey, Def Leppard, Stevie Nicks, Willie Nelson, David Bowie, Sting (who came to Hartford with The Police) and Bette Midler.
"As far as arenas are concerned, I think the train left Hartford back in 2002 and stopped in Uncasville and it's not returning," said Jim Koplik, who has promoted concerts in the state for more than 30 years, including shows at the Civic Center; at the former Meadows Music Theatre, an amphitheater owned by his employer, concert promotions conglomerate Live Nation; and now at Mohegan Sun Arena, where he has exclusive booking rights.
Attendance has also declined at the amphitheater, now called the Dodge Music Center. When the 24,000-capacity venue opened in 1995, Koplik predicted that it would host as many as 50 outdoor shows and 30 indoor shows every year. It hasn't come close. The Dodge brought in 18 shows in 2005, with 223,000 tickets sold, according to Pollstar's numbers, which the magazine compiles from promoters' reports. The amphitheater's best year, 1997, featured 316,000 tickets sold for 34 concerts.
"The concert business has dropped off in numbers dramatically over the last 10 years, with very few new bands growing to the amphitheater level," Koplik said. "I always say that the Dodge is primarily a classic-rock venue. And as far as indoors is concerned, we had great hopes that we could do that, but then our company, the next year after they bought the Dodge, they bought the Chevrolet Theatre, and we consider our indoor home the Chevrolet Theatre."
The Chevrolet Theatre, the Wallingford venue formerly known as the Oakdale, is in a different concert market from the one that contains Hartford and the casinos, which are considered part of the same territory, despite the 45 miles between them.
They are separated by more than geographic distance, though. The casinos, once known mainly for bingo and slot machines, now pitch themselves to visitors as a complete entertainment experience where patrons can eat, drink, shop and rock out without ever stepping foot on the gaming floor.
"It's not the gaming industry anymore, it's the entertainment industry, because under the entertainment umbrella are our concerts, our spas, our restaurants, our hotels," said Tom Cantone, vice president of marketing and entertainment at Foxwoods. "People don't look at it as going to a casino, they look at it as going out and having fun and being entertained."
The face of that entertainment has changed considerably over the past decade, too. Casinos were once refuges for artists whose careers were on a downward arc: Picture the Las Vegas lounge-singer stereotype. Since Frank Sinatra opened the 1,400-capacity Fox Theatre in 1993, though, Foxwoods has focused on booking rising young talent, including Norah Jones, John Legend, Alicia Keys and Jamie Cullum.
"The casino venues are the new stages for today's current artists," Cantone said. "Believe me when I tell you, it's part of American pop culture now, it's mainstream and it's reflected in our lineup for sure. We've debuted more new faces here in the last eight years than any other casino in the country."
The southeast corner of the state now has venues suited for almost any act smaller than stadium-size: the Fox Theatre and a new room under construction with a planned capacity of more than 4,000 at Foxwoods; and the 10,000-capacity arena, 350-seat Cabaret Theater and 300-person Wolf Den at Mohegan Sun. (Hartford will probably continue to host bigger arena acts, such as Billy Joel and Paul McCartney, Koplik said.)

Not only do the casinos' venues give them an edge in booking concerts, but also they provide a set of powerful marketing tools Hartford doesn't have.
"We have taken a lot of business away from Hartford," said Paul Munick, senior vice president for sports and entertainment at Mohegan Sun. He cited Coldplay, Nickelback, Bon Jovi and Korn as concerts that played Mohegan Sun this year instead of Hartford. "If we didn't exist, would they play Hartford? You've got to think some of them would have."
It is true that the casinos are affecting business at the Hartford Civic Center, said Martin Brooks, the building's general manager. . But even though the Civic Center at times has a competitive relationship with Mohegan Sun, Brooks said, he doesn't see it as adversarial.
"I think the casinos are a tremendous complement to us and to other entertainment options in the market, be it the Dodge [Music Center], the Bushnell, the Webster Theater," Brooks said. "There are a lot of shows that have played over the years at Mohegan Sun that probably wouldn't have played this market at all if it weren't for the arena there."
The two venues face different challenges. Mohegan Sun books concerts around the home games of its professional women's basketball team, the Connecticut Sun, and seeks to fill open dates with concerts or alternative sports events. The Civic Center must fit in concerts around schedules for the University of Connecticut basketball teams and the Hartford Wolf Pack hockey club and special events such as professional wrestling and the circus.
"From my perspective, I want to get as many concerts as I can in our building, certainly," Brooks said. "But concerts represent maybe 10 percent of our total attendance in a given year. We're not reliant on the concerts for our business."
Hartford's high-culture offerings mean the city isn't reliant on the Civic Center, either. But that's not to say Hartford should give up trying to attract top touring acts and their fans, said Michael Kintner, director of the Hartford Image Project, which markets the city.
"Having national touring acts come through Hartford is key to its image, attraction and economic development," Kintner said. "We have to be competitive; we can't let them take that entertainment market. But I think we're doing well. I can't think of a show recently that underperformed."
Hartford isn't the only city in the region being affected by the casinos; New Haven and Providence are, too.
"I've seen it affect both," said Jack Reich, who books shows for Toad's Place in New Haven and Lupo's Heartbreak Hotel in Providence. "In New Haven, we've had groups that Toad's has booked every year for many years and now they are paid a lot better to play at the casinos. So they play for us occasionally, but not as often as they once did. In Providence, the casinos do a huge amount of advertising, so when they book an act and we book the same act sometimes, they run huge ads."
Reich said his clubs can survive by booking cutting-edge acts such as the Raconteurs, an indie-rock band that's hipper than the casinos' demographics. And even as the casinos grow, they're not likely to completely kill off music scenes in the region. Hartford's amphitheater is one of just two such venues in New England, for example.
"With the arena business, it'll always be a problem," Koplik said. "But as long as the Dodge stays in Hartford, you'll still get a strong summer season."
Reprinted with permission of the Hartford Courant. To view other stories on this topic, search the Hartford Courant Archives at http://www.courant.com/archives.