But Republicans Challenge Interpretation Of Data From Nonpartisan Fiscal Office
April 27, 2007
By CHRISTOPHER KEATING, Capitol Bureau Chief
Armed with new statistics from the legislature's nonpartisan fiscal office, the state Senate Democrats declared Thursday that their tax plan is far superior to Republican Gov. M. Jodi Rell's.
The Democratic plan calls for tax cuts for all couples earning less than $190,000 annually, and those earning above that level would see their taxes increased. But Republicans immediately counterattacked, saying that the Democrats never mentioned their plans for increases in the sales tax on clothing under $50 and funeral expenses, along with raising the cigarette tax to $2 a pack, up from the current $1.51.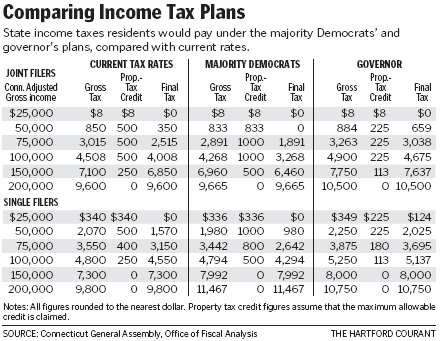 Until Thursday, legislators had not released an analysis of how the plans would affect families at various income levels.
According to the fiscal office, for example, a retired, widowed grandfather earning $35,000 from a pension and a part-time job would see his state income taxes increased by $370 annually under Rell's plan and decreased by $547 by the Democratic plan.
A couple earning $60,000 annually would see their income taxes raised by $401 annually under Rell's plan and cut by $563 under the Democrats' plan, according to the fiscal office.
One key component of the Democratic tax cuts is an increase in the property tax credit to $1,000, up from the current maximum of $500, for couples earning up to $100,000. The tax credit begins phasing out for couples earning above $100,000 and is eliminated entirely for couples earning more than $190,000 annually.
Democrats were clearly energized by the fiscal report, which they believe vindicates their long-held position that the middle class needs relief and the wealthiest should pay more. Their plan calls for a series of tax-rate increases on the state's wealthiest residents, topping out at a new income-tax rate of 6.95 percent for couples earning more than $250,000 annually.
"This is fundamental tax reform," said Senate President Pro Tem Donald Williams, the highest-ranking senator. "This is the way the income tax should have been since day one."
But Republicans launched a rapid response, saying that the Democrats were telling only a small portion of the story because they failed to add other tax increases to their calculations. The House Republicans took the Democrats' handouts from a news conference, copied them, and then added their own calculations to show the increased taxes if the person was a smoker or had to pay funeral expenses for a death in the family. Currently, the first $2,500 in funeral expenses is exempt from the sales tax, but that exemption would end under the Democratic plan.
"When you look at all the taxes - income tax, property tax and sales tax - taxpayers are going to fare much better under the governor's plan than the Democrats' plan," said Robert Genuario, Rell's budget director.
Genuario noted that the Democrats, who control more than two-thirds of the seats in the legislature, are not calling for a property-tax cap on cities and towns. Rell has proposed a limit of 3 percent annually on local property taxes, but voters in towns would have the right to override that percentage in a referendum if they believed more spending was needed.
Republican staff members distributed paper coffee cups Thursday to represent their claim that taxpayers would not have much left over after paying higher cigarette and sales taxes.
"We call it the Democratic coffee cup tax because that's what you'll be able to buy when they're finished raising these taxes," said Patrick O'Neil, the House Republican spokesman.
Rep. Livvy Floren, R-Greenwich, who represents some of the state's richest residents in the town's famed "backcountry" section, said increasing the income tax rate on the highest earners by nearly 40 percent is wrong.
"It pits the rich vs. the poor," Floren said. "In short, it's the pits. It's unfair. They keep robbing Peter to pay Paul, and so they always get the support of Paul."
Greenwich far outpaced every town in the state in income taxes paid in 2005 at $523 million. The next closest town was Stamford, with nearly twice as many residents, at $166 million.
The biggest jumps in income tax would be for those earning above $250,000, who now pay a maximum rate of 5 percent and would see any income above that level taxed at 6.95 percent. At the high end, joint filers with an adjusted gross income of $2.5 million currently pay $124,600 in state income taxes. That couple would pay an increase of less than $13,000 annually under Rell's plan and an increase of nearly $45,000 under the Democratic plan.
Earlier Thursday, teachers' union representatives joined House Speaker James Amann, D-Milford, to say that they endorse the Democratic plan rather than Rell's.
"Why is their endorsement so important?" Amann asked. "Because the governor's budget was all about education."
The Connecticut Education Association, the state's largest teachers' union, spent "roughly $150,000" on a television commercial and radio advertisement after Rell announced her dramatic proposal in February to spend $3.4 billion on education over five years, said John Yrchik, the union's executive director. But the union quickly abandoned its support of Rell after she called for a property tax cap of 3 percent annually for cities and towns.
"This was not a trivial change in the governor's position," Yrchik told reporters. "This was a major change."
After a day of news conferences, the early stages of budget negotiations are set to continue early next week as Genuario meets with the leaders of the budget-writing appropriations committee.
"We all have to start talking like grownups instead of throwing rocks at each other's plans," Genuario said.
Reprinted with permission of the Hartford Courant. To view other stories on this topic, search the Hartford Courant Archives at http://www.courant.com/archives.