Amid Tension On Illegal Immigration, Support For Change In College Status
May 2, 2007
By MARK SPENCER, Courant Staff Writer
Barbara DiOrio calls them the "cream of the crop" of college students she has taught.
Peter Kwasniewski, a business consultant, says the future of the state depends on them.

But Henry Barry, who retired from Electric Boat after 37 years, sees the same folks as lawbreakers.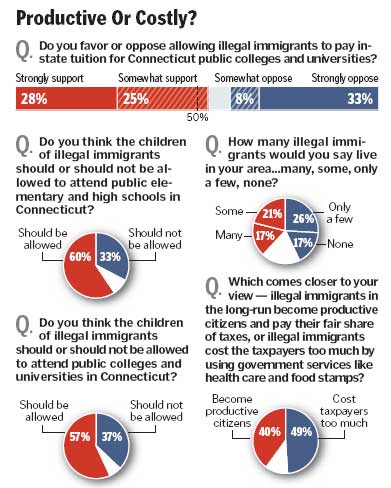 The students they are talking about are illegal immigrants who must pay out-of-state tuition at public universities and colleges, an often prohibitive cost.
But a poll commissioned by The Courant shows that, by 53 to 41 percent, state residents support allowing illegal immigrants to pay in-state tuition, a proposal supporters are trying to resurrect in the legislature.
The poll also reveals how polarizing the issue of immigration has become. Tension about security has increased since Sept. 11, 2001, and the number of people in the U.S. illegally has skyrocketed. Federal efforts to recast immigration laws have foundered, leaving state and local governments searching for stop-gap solutions.
Meanwhile, many illegal immigrants and their supporters have been demanding a way to change their status, emphasizing their desire for a slice of the American dream and their contributions to the country.
Hundreds of demonstrators gathered in New Haven Tuesday as part of national May Day demonstrations by activists calling for a path to citizenship. The events were not as big as the huge demonstrations of a year ago, in part, organizers said, because of increased fear of government raids and deportations.
Proposals perceived as sympathetic to illegal immigrants often attract ardent opposition, which is reflected in The Courant's poll. Of the people opposed to the in-state tuition proposal, 33 percent were "strongly opposed," while supporters were almost evenly split between "strongly support" and "somewhat support."
"While the public supports it, those who oppose it are more intense in their feelings," said Monika McDermott, research director of the Center for Survey Research and Analysis at the University of Connecticut, which took the poll.
For Barry, a resident of Griswold's Jewett City section, illegal immigration is a moral issue. Those who break the law should not be rewarded, he said.
"It really bothers me when we're talking about accommodating illegal immigrants," said Barry, who participated in the poll.
But DiOrio, of Burlington, said she thinks of the "very intelligent, highly motivated" immigrant students she taught at Capital Community College in Hartford. Many were poor, worked full time and had family responsibilities in addition to school. Some, she said, were kicked out when they could not pay their out-of-state tuition on time.
Barriers to higher education prevent developing the labor pool that Connecticut needs to prosper, said Kwaniewski, of Essex.
"It's keeping people from achieving their best, which is keeping Connecticut from achieving its best," he said.
Attitudes about in-state tuition are closely related to how people perceive the role of illegal immigrants in society. Roughly half the poll respondents, 49 percent, believe that illegal immigrants "cost taxpayers too much by using government services," while 40 percent believe that illegal immigrants can become "productive citizens and pay their fair share of taxes."
Seventy-three percent of those who support in-state tuition believe illegal immigrants will become productive citizens, while 63 percent of opponents believe they will cost too much.
The Courant/CSRA poll was conducted April 17-23 by telephone with interviews of 501 randomly selected state residents. The poll's margin of error is 4.4 percentage points.
Sixty percent of Democrats support the proposal, compared with 41 percent of Republicans. Fifty-five percent of Republicans oppose the policy, including half who "strongly" oppose it. Unaffiliated residents - a large portion of the citizenry in Connecticut - favor the proposal by 53 percent to 42 percent.
The tuition bill introduced this session says that to qualify for in-state college tuition, students must have attended two years of high school in state and graduated from an in-state school. Students must file an affidavit with the school they will attend stating that they have applied for legal immigration status, or will apply if they become eligible.

The Pew Hispanic Center, based in Washington, D.C., has estimated that there are between 55,000 and 85,000 undocumented immigrants in the state.
Supporters of the bill estimate that fewer than 250 students would take advantage of in-state tuition, based on the experience of other states. As an example, in-state tuition for one semester at Central Connecticut State University is $3,367; the out-of-state rate is $7,727.

Supporters of the proposal were well organized and had the votes to get it through the legislature's Higher Education and Employment Advancement Committee until it ran in to a one-man filibuster, an often fatal setback for a bill.
"People in the state of Connecticut don't want to reward illegal immigration," Sen. Dan Debicella, R-Shelton, who took the unusual step of filibustering a bill in committee, said Tuesday.
State Rep. Walter Pawelkiewicz, D-Windham, said most residents "realize these youngsters have grown up in our communities" and deserve an opportunity to better themselves.
House Speaker James A. Amann, D-Milford, has told supporters he will allow the bill to be debated if they can muster significant support. Rep. Felipe Reinoso, D-Bridgeport, who introduced the bill, said he is four or five votes short of the 81 he needs to revive the bill.
A similar bill in 2005 came close to becoming law, making it through three legislative committees easily before being defeated in the House by a 12-vote margin.
State Rep. Roberta Willis, co-chairwoman of the higher education committee, said the intensity of those who oppose the idea has led some legislators to be content to let it sit on the shelf.
"They're not wishy-washy," said Willis, D-Salisbury, who supports the bill. "They're pretty impassioned in opposition."
Werner Oyanadel, a legislative analyst with the State Latino and Puerto Rican Affairs Commission, said the new Courant/UConn poll contradicts opponents of the bill, who have insisted the public does not support it.
"The poll indicates this issue needs a debate on the floor of the House," he said.
Reprinted with permission of the Hartford Courant. To view other stories on this topic, search the Hartford Courant Archives at http://www.courant.com/archives.