January 4, 2007
By ROBERT A. FRAHM, Courant Staff Writer
Children who go to school and grow up in Connecticut have better prospects for a good life than do children in all but one other state, says a new Chance-for-Success index released Wednesday.
The index, compiled by the newspaper Education Week, measured 13 factors affecting children's prospects for success, ranging from preschool to careers. Connecticut ranked No. 2 after Virginia.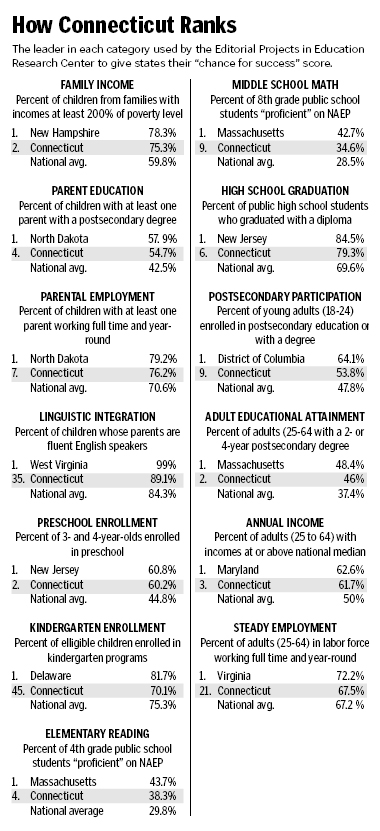 Connecticut ranked fourth in a separate Education Week index measuring academic achievement, part of the newspaper's annual "Quality Counts" report.
The Chance-for-Success index "provides a perspective on the importance of education throughout a person's lifetime," the newspaper said in a press release.
Connecticut had high marks in most categories, ranking well above the national average in family income, parental education and employment, preschool enrollment, elementary school reading and mathematics achievement, high school graduation and college attendance, for example.
The state ranked below the national average in only one category, kindergarten enrollment, with 70 percent of eligible children enrolled in kindergarten, compared with a national average of 75 percent. State education officials are not sure why Connecticut lags in that area, but one possibility is that many parents have decided to postpone their children's enrollment to allow them to improve their readiness for kindergarten, said Frances Rabinowitz, associate state education commissioner.
After Virginia and Connecticut, the states with the highest rankings included Minnesota, New Jersey, Maryland, Massachusetts and New Hampshire. The lowest-ranking states, in descending order, were Alabama, Mississippi, Tennessee, Texas, Arizona, Louisiana and New Mexico.
On the separate academic achievement index, Connecticut's elementary and secondary schools ranked fourth behind those in Massachusetts, New Jersey and Vermont. That index measured mathematics and reading scores on the National Assessment of Educational Progress and took into account factors such as graduation rates and the performance of children from low-income families.
Connecticut schoolchildren performed well in most areas, but in a category measuring eighth-grade math scores, low-income children trailed other children by a larger margin than in any other state, the report said.
Reprinted with permission of the Hartford Courant. To view other stories on this topic, search the Hartford Courant Archives at http://www.courant.com/archives.