Regional Group Plans Magnet Academy For Police, Firefighting, Security Careers
December 11, 2006
By RACHEL GOTTLIEB, Courant Staff Writer
Hartford Police Chief Daryl K. Roberts has a hard time finding candidates who he thinks are smart enough and fit enough for a job on his force. Even more rare is the Hartford resident who is qualified for a job on the force.
"A lot of applicants in general don't pass the reading test or they can't pass the background test," Roberts said. "A lot of crimes are committed by sophisticated criminals," so police need to be smarter.

Police and fire departments throughout the state and around the country are having the same problem.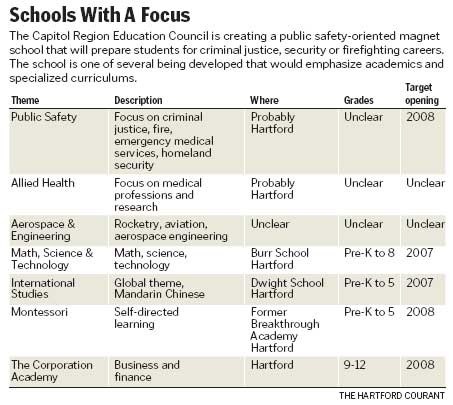 So the Capitol Region Education Council is creating a magnet school focused on preparing students for careers in public safety. The focus on academics will be so pronounced that students who enter the school, probably in Grade 6, will be expected to complete high school and then earn an associate's degree in one of the area community colleges before leaving the program. The school is designed to operate all year with a short summer break, and there will be time built into the school year for students to enter internships.
Students who graduate would have a good sense of the job requirements in criminal justice, security and firefighting, but a diploma from the school would not guarantee employment. Graduates must still compete for jobs and complete the training that each agency requires.
The new school, which is expected to open in 2008, is among a handful of new magnet schools being developed. The Capitol Region Education Council is also creating a school for aerospace engineering and another for allied health. None of the ideas for magnet schools, including the one for public safety, has been submitted to the state for approval although officials are optimistic that the state Department of Education will like the ideas.
The Hartford school district has a menu of four new magnet schools in the works, including a high school for business and finance and an elementary school for global studies.
Hartford Mayor Eddie A. Perez, who also is chairman of the city's school board, stopped short of endorsing the public safety academy, saying that it deserves consideration but suggesting that Hartford does not necessarily need to be the school's host city. It's difficult to find property in the city for new schools, he said. In the past, Perez has expressed reluctance to remove buildings and property from the tax rolls for new schools.
The school for public safety has a mission beyond providing a rigorous education and helping young people qualify for jobs - in the long run, officials are hoping, the school would help the police department improve its image in the city, in part by beefing up the number of Hartford residents on its roster and in part by improving the quality of recruits.
The competition for those smart officers is fierce. "This school is really a response to a shortage in those professions," said Bruce Douglas, executive director of the education council. Recently, he said, he saw a sign outside the University of Hartford recruiting police officers for the New York City force.
If the magnet school succeeds, Douglas hopes it would stand as a model for similar schools around the state.
By taking students in at middle school age and keeping them through high school and through the first two years of college, the school's creators are hoping to help them avoid the mistakes some young people make that prevent them from ever landing jobs in security, police, fire and other public safety careers.
Young people with police records - even for scalping tickets - or bad credit cannot qualify for public safety jobs, said Roberts, who is on the committee to develop the school.
All core classes would be taught by certified teachers. Auxiliary teachers from the Hartford police academy and other fields would teach criminal law, emergency medical services and other classes designed to introduce students to fire, criminal justice and homeland security careers.
"I don't want people to graduate on a third-grade level. That's an embarrassment," Roberts said. "Judges and prosecutors base their work on police reports. If police can't articulate themselves, then the person walks even if it's a good case."
Reprinted with permission of the Hartford Courant. To view other stories on this topic, search the Hartford Courant Archives at http://www.courant.com/archives.