Two-Year Schools Attracting More Minority Students
November 21, 2006
By ROBERT A. FRAHM, Courant Staff Writer
Thanks to students such as 18-year-old Gabriela Chacon, enrollment this fall continued a nearly decade-long climb at Connecticut's two-year colleges, officials reported Monday.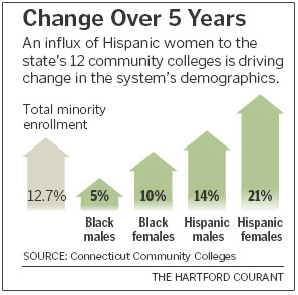 A graduate of Springfield Central High School in Massachusetts last spring, Chacon enrolled as a full-time student at Asnuntuck Community College in Enfield, a 20-minute drive from her home.
"I heard Asnuntuck was a good school," said Chacon, who is studying early childhood education and said she wanted to start at a two-year school before transferring to a four-year college.
A surge of full-time enrollment among recent high school graduates, including more minority students - particularly young Hispanic women such as Chacon - has kept enrollment growing for eight consecutive years in the state's community college system, by far the largest public higher education system in Connecticut.
In the past five years, enrollment of Hispanic females has risen more than 20 percent.
The system issued a report Monday showing its 12 two-year campuses enrolled a record 46,489 full-time and part-time students this fall - up nearly 1 percent since last year - compared with 35,795 at Connecticut State University's four campuses and 28,481 at the University of Connecticut's main and regional campuses.
According to the report:
Slightly more than one-third of the student body, or about 36 percent, is enrolled full time, an increase of 23 percent since 2002. Part-time enrollment dropped 5 percent during the same period.
Minority enrollment has grown about 13 percent since 2002, with Hispanic women accounting for the largest increase, 21 percent, followed by Hispanic men at 14 percent, black women at 10 percent and black men at 5 percent. Two-year colleges now enroll more than three-fifths of all minority students in the state's public colleges and universities.
The number of full-time students under age 22 has surged 89 percent since 1998 and this group now accounts for 75 percent of full-time students. The average age of full-time students is 21, and the average age of part-time students is 31.
A growing pool of high school graduates - a population boom that is expected to peak in Connecticut in 2008 - is behind much of the growth on campus, but some officials believe the relatively low cost of two-year colleges is also a factor.
"I think parents have become very conscious of cost," said Wilfredo Nieves, president of Middlesex Community College in Middletown, where full-time and part-time enrollment has grown more than 8 percent since last year.
"We've also done outreach to high schools and are trying to align our curriculum," he said.
Half the state's two-year campuses reported increases in full-time and part-time enrollments over last year, with Asnuntuck growing by nearly 11 percent, followed by Middlesex at 8 percent and Quinebaug Valley and Three Rivers at 4 percent. Tunxis Community College reported the largest decrease, dropping by 6 percent.
Despite the overall enrollment growth and the increase in full-time students, the number of full-time faculty and staff has not kept pace, putting a strain on services such as counseling and advising, said Marc S. Herzog, the system's chancellor.
About 50 percent of the faculty is full-time, but officials have asked the legislature to expand the budget to bring that figure to 65 percent within five years, Herzog said.
Reprinted with permission of the Hartford Courant. To view other stories on this topic, search the Hartford Courant Archives at http://www.courant.com/archives.