Adult Shop Plan Too Near Museum
February 7, 2007
By JEFFREY B. COHEN, Courant Staff Writer
For now at least, all that stands between a new sex shop and Hartford's South Meadows is, well, trash.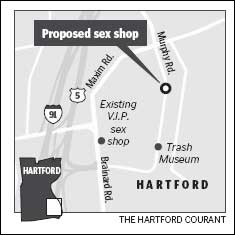 Thwarting an effort to expand the sex industry in the capital city, planners have turned back a proposal for a new adult retail store because - they say - it is too close to an educational facility.
Nope, it's not a school, not a camp, not even a ballpark that is keeping the sex shop from serving up racy lingerie and steamy videos. It's the Visitors Center and Trash Museum at the Connecticut Resources Recovery Authority.
"They have a trash-to-energy museum where they claim school groups visit," said Daniel Silver, the attorney for business owner Joseph Sullo, who wants to sell adult books, videos and clothing in a gray brick and block building at 90-96 Murphy Road that has Brainard Airport as its backyard.
Sullo is appealing the city planning department's decision to the zoning board of appeals.
City zoning regulations say adult establishments can't be within 1,000 feet of "any public or private school, or any other educational facility attended by persons under the age of eighteen, including, but not limited to, after school programs, children's museums, camps and athletic leagues."
More than 20,000 visitors, mostly elementary school students, visit the center at 211 Murphy Road each year to learn how to "reduce, reuse, recycle, recover and rethink."
The CRRA hasn't officially weighed in on the plan for the sex shop, spokesman Paul Nonnenmacher said. But he said that most students who take field trips to the trash museum come from Hartford, and that the most often-used route takes them down Wawarme Avenue to Reserve Road and right past the proposed site for the sex shop.
"We have school groups coming every day. We have school groups booked into 2008," Nonnenmacher said. He said his agency learned about the proposal at a recent neighborhood meeting. "We don't want to get in the way of anybody operating a business, but we're concerned about our own customers."
Sullo's zoning appeal is scheduled for later this month.
This is Sullo's second stalled attempt to open an adult establishment in the city. With his partner, Daniel Quinn - who has been described as an "adult industry pioneer" - Sullo also is working to open a strip club at 275 Weston St. in the North Meadows.
That proposal has been withdrawn, for now, as has a federal lawsuit Sullo and Quinn filed arguing that the city's zoning regulations unfairly limit free speech.
Quinn and Sullo have other substantial investments in the sex-oriented entertainment business. Either together or apart, they own property or are partners in the Penthouse Boutique in Milford, the Luv Boutique in Hartford, the Erotic Zone in the North Meadows and two Kahoots strip clubs, one in East Hartford and the other in Vernon.
Reprinted with permission of the Hartford Courant. To view other stories on this topic, search the Hartford Courant Archives at http://www.courant.com/archives.