Some Look To Pair TV Channel's Old Quarters With Former Clarion Hotel Site For Redevelopment
July 17, 2007
By KENNETH R. GOSSELIN, Courant Staff Writer
In 1961, Broadcast House in downtown Hartford was hailed as a marvel of modern architecture and technology, the first structure to be completed on Constitution Plaza after the razing of the Front Street neighborhood.
The dedication of the television and radio studios was an event so momentous that a bronze sculpture and original symphony were commissioned for it. The music was later released as a record because so many wanted a copy.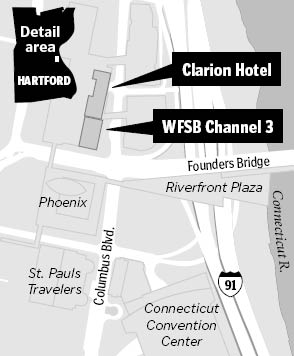 This week, as WFSB-Channel 3 finishes up its move from Broadcast House to a new, $25 million facility in Rocky Hill, the once celebrated four-story structure with its scalloped cornice is now looking like a candidate for the wrecking ball or, at best, a total gutting.
7Situated at the corner of State Street and Columbus Boulevard, the site is the gateway to the city for those entering from Founders Bridge and for travelers to the nearby convention center.
Some say Broadcast House, which is up for sale, should be redeveloped as part of a larger plan that should include the long-vacant former Clarion hotel just to the north. While that vision makes sense, the reality isn't so clear-cut: Developers who have approached the hotel's owner - the Maharishi School of Vedic Sciences - say negotiations are difficult and terms impossible to meet. In a decade, nothing has come of any negotiations over the hotel.
"If you could tie the hotel and Broadcast House together, you have some really exciting possibilities," said Matt Hennessy, chief of staff for Mayor Eddie A. Perez. The area could give rise to a new tower, perhaps a mixture of office, apartments or condominiums and shops and restaurants, Hennessy said.
Perez favors demolishing the hotel, which is outdated because of its small rooms, and creating a redevelopment zone that would encompass the two buildings. A proposal isn't imminent but is being discussed, said Mark McGovern, the city's economic development director.
The new zone would allow the city to work with whoever buys the WFSB building, and it would give the city the option of acquiring the hotel by eminent domain.
Brokers, city officials and other property owners in Hartford say Broadcast House is also a strong candidate for demolition.
Not only is it outdated and run-down, the building's configuration as a broadcast center would make it difficult to convert to another use. The costs would be high and couldn't be recouped at lease rates now being paid in downtown Hartford, they say.
What no one wants to see is another vacant building in an area where redevelopment has been surging ahead, particularly just south on Columbus Boulevard. There, the steel frame of the new science center is rising.
"You don't want to see another building in the central business district go dark," said Jay Wamester, a broker at Colliers, Dow & Condon in Hartford. "You need to tie it all together."
The success of redevelopment efforts involving Broadcast House and the hotel are critical not only to the riverfront, but to Constitution Plaza. The area, long considered an example of failed, 1960s-era urban renewal, has gained momentum in recent years after its tallest office towers were renovated by owner Capital Properties of New York. A restaurant - Spris - has been open for six years.
Broadcast House has been on the market for about two months at an asking price of $1.7 million for the 80,000-square-foot structure. The price is 40 percent lower, or $1.1 million, than the current assessed value of $2.8 million for the building and its half-acre of land, according to city records.
The price was set lower because any new owner will have to make a sizeable investment.
"At that price, it's a great opportunity to redevelop from the ground up or renovate what's there," said Jonathan K. Putnam, a broker at Cushman & Wakefield in Hartford, the listing agent.
Klarn DePalma, WFSB's general manager, said the station's owner, Meredith Corp., has two "very interested" parties.
"We're waiting to see how it plays out," he said.
DePalma wouldn't name the prospective buyers. But sources familiar with downtown commercial real estate say Northland Investment, downtown's biggest landlord, has expressed an interest.
A spokesman for Northland declined to comment except to say, "Northland is always looking for opportunities in downtown Hartford."
Northland redeveloped the old Civic Center site on Trumbull Street, which included the construction of the Hartford 21 apartment tower and street level retail space.
Six months ago, a prospective buyer, Calare Properties Inc. of Hudson, Mass., came close to buying Broadcast House. Calare, which purchased the old MassMutual campus on Asylum Hill with a partner last year, said the challenges of rehabilitating Broadcast House were too great.
"I don't think you can save that building," Calare's president, William L. Manley, said. "You almost have to start from scratch."
Among the myriad problems Manley noted: narrow hallways; aging fire alarm, sprinkler, heating and cooling systems; and the need for a new facade. The aging systems were apparent in May when a water pipe ruptured and dumped 100,000 gallons of water into a section of the building's basement. The break forced WFSB to hastily assemble a newscast from CPTV's studios on Asylum Street.
Developer and businessman Sanford Cloud Jr. said he once considered buying Broadcast House with strategic partners he didn't name. But Cloud concluded that the most workable plan for the area would encompass both Broadcast House and the hotel.
"If you got control of those two buildings," Cloud said, "you could really enhance that part of the city."
Reprinted with permission of the Hartford Courant. To view other stories on this topic, search the Hartford Courant Archives at http://www.courant.com/archives.