Parking A Key Issue in Marketing Of Smaller Downtown Office Buildings
June 19, 2007
By TERESA M. PELHAM, Special To The Courant
The tall office towers in downtown Hartford get a lot of attention, their character defining the city's skyline. But nestled among the giants are those shorter in stature, but often richer in heritage, some built decades before their soaring, more modern counterparts.
These are the Class B office buildings - and their owners don't have it easy in a world that caters to the modern towers.

And now, in downtown Hartford, times could get even a little tighter.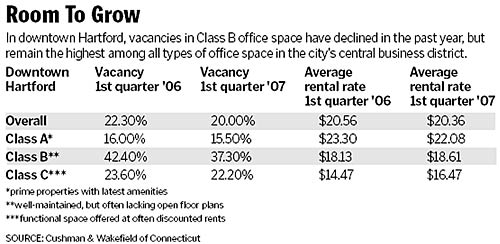 With MetLife's move next year from 373,000 square feet in CityPlace to Bloomfield, owners of Class B properties will feel the sting as much as the lunch spots that served those suburb-bound employees.
CityPlace is a so-called Class A building - prime office space with open floor plans and the latest amenities - and it could now pose more competition in a market where Class B space has the highest vacancy rate in downtown Hartford, despite some improvement in the past year.
"MetLife moving will have a tremendous impact on Class B owners," said Ruth Schaefer, a principal with the Schaefer-Belmont Group. "Now we're competing with Class A space, which may be subleased at a lower rate."
Schaefer is clearly committed to the city - and its potential for lasting revitalization - and is a savvy marketer for her four properties in the city.
She walks the line between outgoing and acquiescent, between assertive and agreeable. If they could be bottled, these contrasts would be just the right mixture for any successful businessperson.
"This is gorgeous space," she said of the property at 11 Asylum St. known as the Corning Building. "This is the best corner in town."
But mention parking, and Schaefer's tone darkens. Parking, like no other issue facing Class B landlords, is a thorn in her side.
"I would be able to fill up this building if I had parking," she said. "Our rents have to be 30 to 40 percent lower than in the suburban markets because of the parking. Look at all the major corporations that have left Hartford because of parking."
Office tenants in downtown Hartford often must pay for parking, with companies splitting the cost with their employees. Suburban office owners typically offer free parking, which can give them bargaining power if a tenant is considering a lease in downtown Hartford.
Schaefer bought 11 Asylum St. - a six-story property in which her father, the late Allan Schaefer, had partial ownership for three decades - in 1998 and brought Burger King to downtown Hartford soon afterward.
"Parking is the greatest challenge for owners of Class B properties," Schaefer said. "Parking plans in Hartford were done with A buildings in mind."
Fellow B-owner Phil Schonberger concurs, noting the specific challenges Class B landlords have in terms of parking, attributing the problem primarily to a lack of public transportation. Schonberger, managing member of Albemarle Equities LLC, has managed to secure parking in all of his Class B deals, he said.
"I don't want it and I don't buy it if it doesn't have parking," he said. "Ruthie hasn't had that luxury. She does a lot with a little. If all you needed was Class B space, why would you come to downtown Hartford?"
Schaefer had the opportunity to take note of parking in other cities in 2005 and 2006 when she accompanied her daughter on a two-year, 28-city Broadway national tour of Les Miserables. Between keeping in contact with home and the office, Schaefer also managed to make note of the parking situation in other cities.
"In Washington, D.C., the office space is probably three times what it is here in Hartford, but the parking is cheaper," she said. "It was cheaper to park right near the National Theater and the White House than it is to park in downtown Hartford. It's ridiculous."
Schaefer believes that a property she bought in 1999 - 44 Capitol Ave., a building she describes as "boutiquey" - is successful because she is able to offer tenants parking and because tenants, including a few lobbyists, can walk to the Capitol.
"People are not going to work downtown unless they have to," she said. The only people who will take space in Hartford are those who have to be here."
Schaefer's other two properties are in a state of flux. The Sports and Medical Sciences Academy plans to move to its newly built larger facility in the summer of 2008. Schaefer has high hopes that another school will take advantage of both the facility and the location of the 35,000-square-foot building at 275 Asylum St.
The fate of the company's fourth property is unknown. The Department of Children and Families' Hartford Regional Office, the worksite of 300 employees, is now at Schaefer's 90,000-square-foot Parkville Business Center at 110 Bartholomew Street. For the past 11 years, DCF occupied 65 percent of the building. State government may move these offices to Colt Gateway's South Armory. According to Jonathan Holmes, deputy commissioner of the state Department of Public Works, the state is "in negotiations with the lease, but nothing has been decided."
"Parkville is a natural Hartford neighborhood," Schaefer said, noting, not surprisingly, that her Parkville property offers more than 400 parking spaces, something she said Coltsville would be unable to do.
"The Parkville office is a hub for community connectedness and improvement. It's not about me losing a tenant. It's about affecting a neighborhood."
Reprinted with permission of the Hartford Courant. To view other stories on this topic, search the Hartford Courant Archives at http://www.courant.com/archives.