January 25, 2007
By JEFFREY B. COHEN, Courant Staff Writer
Long-stalled plans to build a hotel on land near the Connecticut Convention Center are moving again, as the developer has a new partner, a probable lender, and, as of this week, at least $2.5 million in state funding to get the 130-room hotel built.
Developer J. Martin Hennessey's hotel is a years-old project that has caused some state officials to wonder whether he can execute the deal. But the promise of a new, budget-priced hotel just a short walk from the new convention center has state officials and convention planners pumped.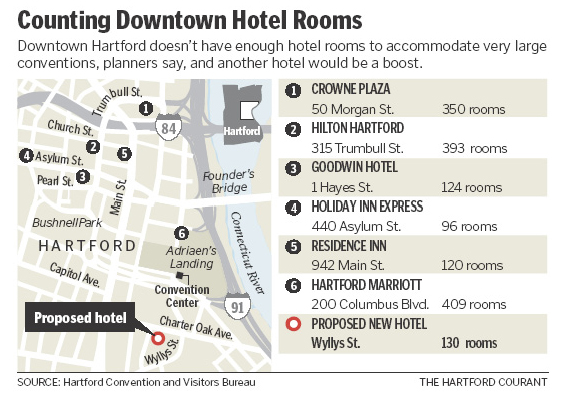 "Certainly more rooms are going to be helpful in selling Hartford, and the closer the rooms are to the convention center, the better it is for our sales effort," said H. Scott Phelps, head of the Greater Hartford Convention and Visitors Bureau. The city has lost some business, like an annual meeting of the American Legion, because it didn't have enough hotel rooms near the convention center.
"We need more rooms," Phelps said. "So 100 or so rooms near the convention center is a positive."
On Tuesday, the Capital City Economic Development Authority awarded Hennessey $2.5 million to $3 million for the project. The authority's board members said the hotel would benefit both the convention center and the still fledgling - and unrelated - effort to turn the Capewell factory into condominiums.
Hennessey says his plan to build a Candlewood Inn and Suites could mean a summertime construction start. Hennessey's plan would also include more than 380 parking spaces, some of which would be set below market prices.
Hennessey's plan beat out two other requests for the authority's final chunk of parking dollars - one from the Colt Gateway project to help pay for the rehabilitation of an existing surface parking lot, the other from downtown landlord Michael Grunberg, who wanted to turn some of the top floors of his Bank of America Building at 777 Main St. into luxury condominiums.
Grunberg now says he has to rethink his plans.
"As far as I'm concerned, I have to re-evaluate the city and the state's wish to have residential in the [central business district]," he said. "Clearly, they would rather spend money ...on projects that, by their own admission, have been three years in the making and are still nowhere further than they were three years ago."
Rebekah MacFarlane, a Colt Gateway official, said her company will look for the needed money elsewhere and still hopes to complete the parking lot. "As much as I wanted to see us get some of the parking money, for Capewell to get rehabbed and turned into a hotel or housing, it helps our neighborhood," she said. "It's going to benefit us."
For years, Hennessey had planned a $20 million project with a gated housing community and a hotel. In early 2005, he proposed a two-hotel project with a retail building.
That plan didn't move quickly, largely because he wasn't able to acquire the land from developer John Reveruzzi, who is building condominiums at the Capewell. But now, Hennessey says plans for the subdivision of the property have been approved, General Electric is financing the debt, and the International Hotels Group - which owns the Candlewood name - is on board, too.
Hennessey said the hotel would be a good, lower-cost option for those involved in the convention and trade show industry.
Hennessey's long-term plan is to build two hotels on the site - the first would likely be on Wyllys Street across from the new Dutch Point public housing development. Should the market conditions support a second hotel, it could be placed near the corner of Wyllys Street and Popieluszko Court, Hennessey said.
The first hotel will cost roughly $15 million, including the $2.5 million he is contributing in land costs, the $2.5 million to $3 million in state funds, and the rest in private financing. Hennessey has three months to sign an agreement with his partner, contractor Orlando Annulli and Sons; he has six months to get his financing.
"It's real, believe me, it's real," Hennessey said in a recent interview about the project, which he admits has taken some time to get off the ground. "I've been struggling through this for years, and all the pieces are in place."
Reprinted with permission of the Hartford Courant. To view other stories on this topic, search the Hartford Courant Archives at http://www.courant.com/archives.